Work Report
Mriganka Basu Roy Chowdhury
What we wanted to do
Sprinklr has a few places where auto-completion can be useful.
One example would be the new News Stories feature.
A user can search for, say, covid india.
Currently, it displays articles which have covid or india, suitably weighted by occurence positions (title/body etc.)
Need something that:
Suggests more tags: covid india → covid india cases
Also corrects mistakes: cvd → covid
Completes words: ind → india.
How it works
Has 3 major components
Fuzzy Corrector, Word Completer, Tag Suggestor.
Exposed as a REST API.
Which can be fed lists of strings.
And can be used to complete/correct phrases.
Preprocessing
Remove words of little content, like "if", "so", "a" etc. Eg. "saw cat jump over fence" from "i saw a cat jump over the fence".
Standardize quotes, punctuation etc – was a bug earlier.
Pick \(\leq k\) -letter combinations from these words, in order, as phrases. \(k = 3\) by default.
Each string has a quota of the number of phrases, set to ~50 by default.
Pick random phrases of length \(k + 1\) till we exhaust this quota.
Fuzzy Corrector
Converts words into a phonetic representation.
A representation of how it sounds.
Currently using Soundex.
This can convert "Donald" → "D543". Also "Dnald" → "D543".
When we need to correct a word, just return the top words that sound the same.
So missing out vowels has no effect, and can be fixed.
Also consonants that don't make much of a difference.
Word Completer
Uses a trie for completing words
Each node also stores how many times it has been visited (popularity)
And also the top few completions (i.e. most popular descendants in the trie).
Tag Suggestor
Maintains a trie, where each edge is a word.
We insert phrases (short ordered sublists of sentences in input) into the trie.
Given some words, it tries to find the best completions using this trie.
Also tries deleting some words from the phrase before doing the above.
Ranking is decided by the "importance" of the subphrase that is being completed.
Data Storage
Currently using an in-memory Guava Cache of ~ 2 GB size.
And a Mongo store, which persists all keys.
Mongo persistence task runs out of the main thread.
All important keys that are not found in the cache are reloaded once found in Mongo.
So, repeated similar queries take little time after the first.
Dependency Diagram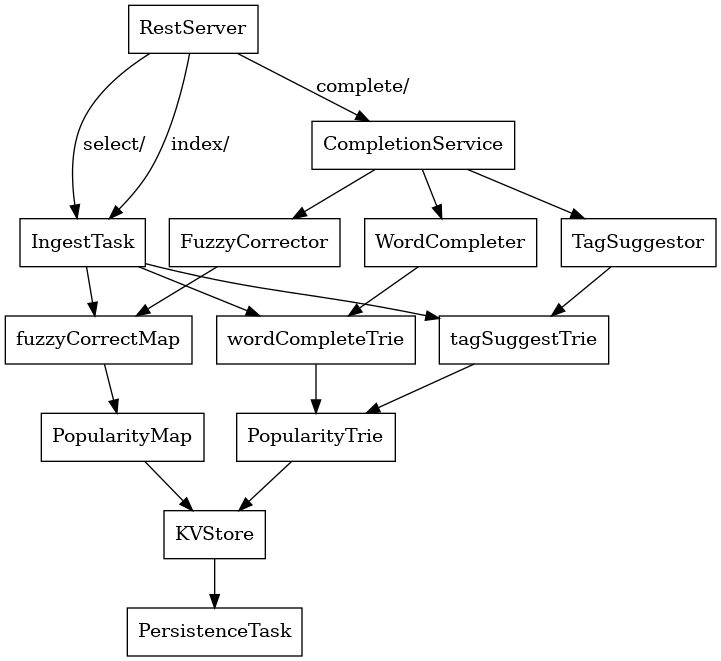 Test Set
Contains a few tests for checking accuracy.
A 10000 + 10000 set of news titles in English
A 100 set of news titles in other languages like Russian and Spanish to check Unicode support.
These are fed to the system via the index/ route.
Performance
All tests are on my computer (8 GB / i5 8th), with the initial version of the code. Can be found at https://github.com/mbrc12/auto-suggest (redisless-tags branch)
Around 2 - 2.5 minutes to index a 10000 set.
Completion latency is 30 ms on average
Under a complete restart, the latency goes upto ~100 ms at first, but drops as the cache starts filling up.
Cache can hold 10-15 days worth of data in memory itself.
Phrase completions
Right now, we suggest only tags.
But, it is also possible to complete phrases, like Gmail does in email composition.
A preliminary version is implemented in the above repository in multi-lang and phrase-suggest branches.
Fuzzy Correction - I:
An useful improvement would be to fuzzy correct words of other languages like Japanese or Spanish.
Under my current approach, this requires phonetic content algorithms of other languages. This is a relatively under-developed area.
Edit distance approaches do not work in Japanese for example, because Kanji characters represent a word/idea, as opposed to a sound like in English.
It also doesn't work well in English, as it is insensitive to meanings. Words with small edit distance mean vastly unrelated things, night and right.
Fuzzy Correction - II:
In English, it might be possible to do better suggestions using Soundex alone.
The idea is to change a few characters in the Soundex representation itself.
However, this will:

Increase latency
And if wrong characters are substituted, the suggested words might be useless.
Other Projects
Some projects on Spring and Patterns in Java.
An application that fetches titles (concurrently) from https://newsriver.io and pushes them to Kafka, and consumed on the other side by a (concurrent) consumer.
Thanks
Thanks to Tejasv Gupta for being available throughout the duration and guiding us in every step. And also for suggesting such an interesting problem!
Also thanks to Shubham and Sudhanshu for some really interesting discussions.
Finally, thanks to Sprinklr for organizing this wonderful internship.